Don S. Wyatt, DDS
Dr. Don S. Wyatt attended Brigham Young University for his undergraduate studies and achieved his Doctor of Dental Surgery (DDS) degree at Creighton, graduating in 2007. He continues to advance his knowledge of dentistry with hundreds of hours of continuing education, including training in implants, full mouth reconstruction, orthodontics, migraine treatment, TMJ therapy, 3D imaging, and more. Dr. Wyatt is a member of the American Dental Association.
Dr. Wyatt has practiced in the Jerome, Idaho area since 2007. He strives to make a difference in the lives of his patients, building a dental practice that will serve and build the community. He is positive that great dentistry makes a difference in the lives of his patients.
Dr. Wyatt and his wife, Angie, have 7 children, 6 girls and 1 boy. His hobbies include spending time with his family, farming, fitness, and activities and service within his church.
Jeremiah Funk, DMD
Dr. Jeremiah Funk grew up in the small town of Murtaugh, Idaho. He was raised on a farm and spent many hours farming, cutting hay, driving tractor, and helping on the dairy. Throughout his early years he was very active in sports, as well as FFA.
Dr. Funk spent two years in Madrid, Spain, on his LDS Mission. He is fluent in Spanish. He returned home and went to school at Brigham Young University, where he received his Bachelor of Science degree. Dr. Funk furthered his education and graduated with his Doctor of Dental Surgery from University of Texas Health Science Center of Houston.
He met his wife, Angie, in Texas, and the two have been married for 5 years. They have three children.
Dr. Funk is very passionate about helping others! He came back to the Magic Valley in 2013 and started working at Today's Dental Care in Wendell. He enjoys getting to know his patients on a personal level and take care of friends and family.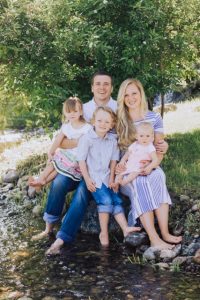 Karl Klingler, DDS
Dr. Klingler is the newest member of our Jerome office. He graduated in 2017 from the University at Buffalo in New York School of Dental Medicine. He completed his undergraduate studies at Brigham Young University – Idaho in exercise science. Dr. Klingler has been trained in dental implants, pediatric care, and full mouth reconstruction procedures. He is dedicated to furthering his education and training, making a diligent effort to learn and stay up to date in this exciting profession, and regularly completing weekend and online continuing education courses. As a dentist, Dr. Klingler seeks to provide the best possible care to every patient he sees, and to try and treat them like a family member. Dr. Klingler is a member of the American Dental Association.
Dr. Klingler has been married to his wife, Katie, for over 7 years. Together, they have three amazing children: Mason, 5; Brooklyn, 3; and Madison, 9 months. He enjoys serving in his church and spending time outside with his family, including hiking, rock climbing, playing soccer, and working in the yard.