Ty Peterson, DMD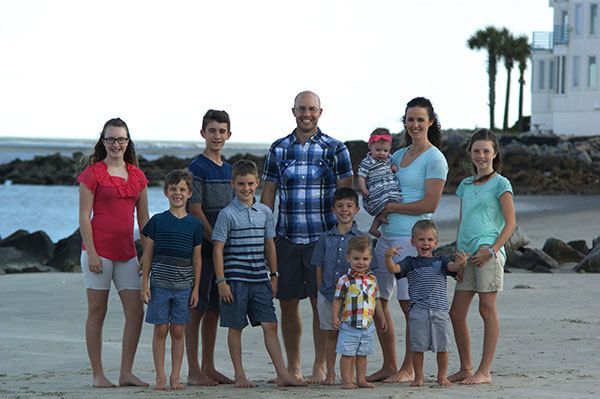 Dr. Peterson is the newest member of our Gooding office. He graduated in 2019 from Medical University of South Carolina. He completed his undergraduate studies at Idaho State University in physical education. Dr. Peterson has been trained in dental implants, pediatric Care, and full mouth reconstruction procedures. He is dedicated to furthering his education and training, making a diligent effort to learn and stay up to date in this exciting profession, and regularly competing weekend and online continuing education courses. As a dentist, Dr. Peterson seeks to provide the best possible care to every patient he sees, and to try and treat them like a family member. Dr. Peterson is a member of the American Dental Association.
Dr. Peterson has been married to his wife, Katie, for over 15 years. Together, they have 9 amazing children: Karly, 14; Derek, 13; Cami, 11; Teague, 10; Brock, 8; Mccoy, 6; Drew, 3; Axe, 2; Korbi, 1. He enjoys serving in his church and spending time outside with his family, including hiking, rock climbing, hunting, and any other outdoor activities."
Bri – Registered Dental Hygenist
Bri has been with us for 6 months. She served in AmeriCorps for 2 years and was the President of the Student American Dental Hygiene Association for 2 years. Bri graduated from ISU with a BS in dental hygiene in May 2016, and she now helps us take care of our patients' oral health needs and concerns. Her favorite parts of our practice are the constant new changes to improve our patients' oral health and the great communication and teamwork between our 4 offices.
Bri married her husband, Josh, in July 2016. She enjoys being outdoors (she's trying to pick up hunting). Bri also played softball in college and loves helping younger softball players now.
Amanda – Lead Dental Assistant
Mary – Dental Assistant
Cynthia – Receptionist
Phone
208-934-8080
Hours
Monday: 8:00 AM-5:00 PM
Wednesday: 8:00 AM-5:00 PM
Thursday: 8:00 AM-5:00 PM
Friday: 8:00 AM-1:00 PM
Address
Today's Dental Care
325 Main St.
Gooding, ID 83330